The Greenbrier enters into partnership with WVU Medicine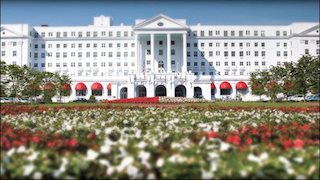 MORGANTOWN, W.Va. – Officials at The Greenbrier and WVU Medicine announced today (June 5) that they have entered into a partnership and clinical affiliation for medical care delivery in support of the resort's professional athletic events and training camps.
"We are excited to partner with WVU Medicine as The Greenbrier's official sports medicine provider," David Darden, administrator of the Greenbrier Clinic, said. "Two great organizations are combining resources to ensure the professional athletes involved in sporting events at The Greenbrier have access to excellent medical services. The affiliation with WVU Medicine's Sports Medicine program affords us the opportunity to continue the delivery of excellence at The Greenbrier."
A WVU Medicine sports medicine physician will be on-site during all athletic events, including The Greenbrier Classic and any training camps at The Greenbrier. Anyone requiring specialty care will be transported to WVU Medicine's J.W. Ruby Memorial Hospital in Morgantown.
At The Greenbrier Classic, a PGA Tour FedEx Cup Event, Brenden Balcik, M.D., a WVU Medicine emergency medicine and sports medicine physician, will serve as medical director for the tournament, providing care to the golf pros, their families, and their caddies. Now in its eighth year, The Greenbrier Classic will be held from July 3-9. As The Greenbrier continues to add professional sports events, WVU Medicine will be the official medical provider for those as well.
"It seems only fitting that two of West Virginia's most recognized brands – WVU Medicine and The Greenbrier – would come together to form this type of partnership. When people visit The Greenbrier, they expect the best, and the same is true of those who seek out WVU Medicine for their medical care," Albert Wright, president and CEO of the WVU Medicine-West Virginia University Health System, said. "We are honored to have been chosen as The Greenbrier's exclusive medical provider, and we look forward to growing this relationship long into the future."
For more information: Angela Jones-Knopf, Manager of Media Relations, 304-293-7087