The Physicians of St. Joseph's welcomes additional family providers to its staff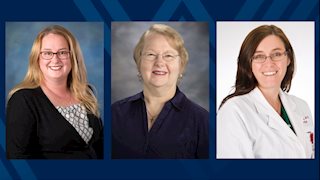 BUCKHANNON, W.Va. – St. Joseph's Hospital recently welcomed the staff from the Pearson Family Medicine practice to the Physicians of St. Joseph's. The addition of this practice, located at 21 Auction Lane just off of Brushy Fork Road, will assist in providing additional family medicine physicians to the group.
"We are pleased to welcome the providers and staff of Pearson Family Medicine to the St. Joseph's family," Skip Gjolberg, administrator of St. Joseph's Hospital, said. "This addition will help to ensure the availability of quality family physicians for our community."
Amy Pearson, M.D., has been a hospitalist with St. Joseph's for several years but will now join the Physicians of St. Joseph's as a family practice provider. Joining her are Amy Coffman, A.P.R.N., F.N.P.-B.C., and Mary Hackney, A.P.R.N., F.N.P.-B.C.
Pearson is a graduate of Marshall University where she performed her residency. She is board certified in family medicine and is originally from Upper Glade.
Coffman received degrees in nursing from Marshall University and WVU and is pursuing a Doctor of Nursing Practice degree from Samford University in Alabama. She is also an assistant professor of nursing at West Virginia Wesleyan College.
Mary Hackney received her Bachelor of Science in Nursing from Norfolk State University in Virginia and her Master of Science in Nursing and Family Nurse Practitioner from Graceland University in Independence, Missouri. Most recently, she was a family nurse practitioner in Montgomery, Texas.
Appointments with the providers may be made by calling 304-472-6041.
For more information: Lisa A. Wharton, St. Joseph's Hospital Vice President of Marketing, Public Relations, and Foundation, 304-473-2138