Valedictorian and EMT receives cancer care close to home at the WVU Cancer Institute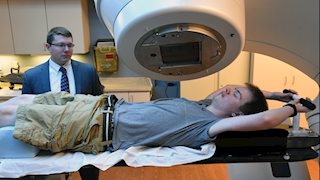 MORGANTOWN, W.Va. – After graduating valedictorian of the Gilmer County High School Class of 2017, Tyler Moore, 18, is spending his summer as an emergency medical technician (EMT) in his hometown of Glenville before he begins studying to be a doctor.
He's not your typical overachiever – he has also been battling cancer for the last eight years.
At age 9, Moore began experiencing facial paralysis. After more than a year, he was diagnosed with paraganglioma, a very rare tumor, at the base of his skull. He traveled out of state for highly specialized care, including a 14-hour surgery. The cancer came back within a year and spread to his lungs, but for the last seven years, oral chemotherapy has kept the cancer to a slow growth rate.
This summer, Moore was facing six weeks of radiation therapy five days a week, which would require staying out of state for half of his summer, away from his home, his friends, and his community.
One of Moore's physicians, Austin Vargo, M.D., who recently joined the Department of Radiation Oncology at the WVU Cancer Institute, encouraged Moore to seek treatment in Morgantown, where he could live at home while receiving cancer care.
"The WVU Cancer Institute has built a program where people can remain engaged in their communities, can get their treatments closer to home, can continue their normal lives with friends and family, but still know they're receiving the same quality of care that they would receive anywhere else in the world," Dr. Vargo said.
In Moore's case, that means not only spending time with his family and friends but also contributing to his community. The weekend before his first treatment at the WVU Cancer Institute, he worked a 24-hour shift as an EMT.
Patients like Moore are able to receive their cancer care close to home thanks to the rapid growth of the WVU Cancer Institute in the last several years, including in radiation oncology. The Department of Radiation Oncology was established in 2012 and has now grown to include six radiation oncologists and six physicists supported by state-of-the-art equipment, treating at least a dozen types of cancer.
WVU Cancer Institute Radiation Oncology offers Gamma Knife radiosurgery for brain cancer, intraoperative radiation therapy for breast cancer, and several other advanced radiation therapy techniques, such as image-guided radiation therapy, intensity-modulated radiation therapy, and stereotactic body radiation therapy.
At his graduation, Moore delivered a valedictory address that has since garnered more than 10,000 views on Facebook. His speech focused on perseverance in the face of challenges, a message that Moore has lived personally.
"I didn't expect to have cancer," Moore said in his speech. "Nevertheless, these impending obstacles and trials do not mean that we should just quit and never try to pursue our dreams. Persevere, my friends. The adversity that you face today will only make you stronger tomorrow."
Moore has not let his own obstacles stop him from pursuing the life he wants, and having care available to him at the WVU Cancer Institute has enabled him to continue pursuing his goals. This fall he's studying biology and chemistry at Glenville State College – with a minor in bluegrass – and plans to go on to medical school and be a doctor in West Virginia.
"Tyler is using his time at home to give back to his community and volunteer as an EMT in his local community, and he wants to continue to progress the healthcare mission within rural West Virginia," Vargo said. "That's really an impressive combination that highlights the power of perseverance and strength through adversity."
For more information: Sarah Wisniewski, Communications Specialist, 304-293-1428