Vandalia-Con Steampunk Convention to benefit WV Breast and Cervical Cancer Screening Program and Bonnie's Bus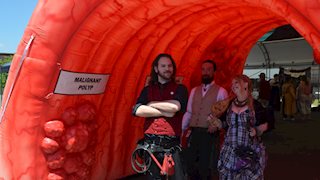 The Vandalia-Con: Saving the Mothers of Invention is a Steampunk Convention hosted by the Historic Blennerhassett Hotel in Parkersburg that will begin at 10 am on May 26 and continue through 3 pm May 28. This Convention supports the mission of the West Virginia Breast and Cervical Cancer Screening program and will raise funds to provide uninsured West Virginia women with screening, diagnostic and treatment services for breast and cervical cancer. All proceeds will benefit
Bonnie's Bus
, WVU's mobile mammography vehicle.
On Friday, May 26 from 10 am until 7:30 pm, Vandalia-Con will hold a pink block party, which will include a regional Mountains of Hope West Virginia State Cancer Coalition meeting, a screening of the film "Someone You Love: The HPV Epidemic" with continuing education credit available, and two free classes. Vandalia-Con proper will begin with a concert on Friday night at 9 pm -Midnight. Concert tickets are $10.00, or free with purchase of a weekend or VIP Pass.
This year, keynote speaker Jade Myers from Limbforge will 3-D print a prosthetic arm on site. Jade has ushered this technology all over the globe helping people in Haiti and right here at home with this amazingly low cost adaptive technology.
For the most up-to-date information about vendors, musical guests, artists, and special events check out this facebook page or visit Vandalia-con.org.
Tickets begin at $25 for a day pass. For more information.
To reserve a room at the Historic Blennerhassett Hotel, which is hosting the event, call 1-800-262-2536 and use event code VCON2017 for special room rates.
If you have any questions email Shelly Dusic or call her at 304-685-2858.
-SS-