Week-long course offered highlighting holistic approach to wellness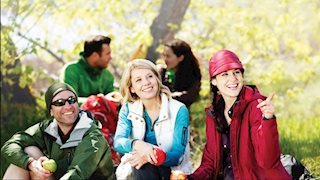 The fast-past nature of the fields of health and science can lead to information overload and physical burnout for professionals. Building a solid personal foundation in mindfulness and wellness can help individuals working in these fields to concurrently establish a holistic professional approach.
Foundations of Wellness (SBHS 630, CRN 52244) is an intensive, week-long course designed to give students a retreat-like, experiential learning opportunity. The course combines readings, mindfulness exercises, in-class lectures, discussions, group learning activities, and more to bolster overall understanding of wellness.
"You can't take care of others if you don't take care of yourself," says Dr. Bill Reger-Nash, professor emeritus in the Department of Social and Behavioral Sciences in the WVU School of Public Health. According to Dr. Reger-Nash, "Data suggests that professionals who live a well-balanced life tend to learn better and live with more satisfaction overall."
To obtain a copy of the syllabus and to register for this three-credit-hour graduate course in the WVU School of Public Health, contact Dr. Bill Reger-Nash at wreger@hsc.wvu.edu; 304-685-6740. The course may be taken for graduate credit or audited and there are no pre-requisites. Students are in class on campus from July 10 to 14 at the WVU Recreation Center (M-Th: 8 am to 6 pm; F: 8 am to 2 pm), although there are assignments before and after. The class is limited to 14 enrollees. Registration deadline is June 15, 2017.