Welcome to the new class of Ph.D. students in the Biomedical and Clinical/Translational Science Programs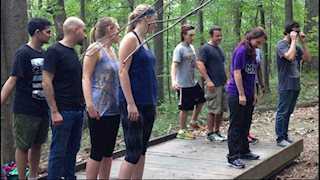 The Office of Research and Graduate Education welcomes the new class of graduate students into our Ph.D. programs in the Biomedical and Clinical/Translational Sciences.
Life in graduate school for the Biomedical graduate students begins with a week long "boot camp" in which the students spend eight to 10 hours a day learning how to read scientific literature and present scientific results orally, as well as learning the ropes of graduate school and scientific exploration.
Unlike other degree programs, students seeking a Ph.D. spend the majority of their five years in graduate school involved in research for their dissertation. This research must be original and make a contribution to the scientific literature. During boot camp, students meet research scientists at the Health Sciences Center to select a laboratory in which to undertake their dissertation research.
The students in the clinical and translational sciences program joined with the biomedical students for team building at Adventure West Virginia on the low ropes course. They all learned that being in a team can be a "balancing act" and can leave one a bit "strung out."
This group of students is geographically diverse, coming from six states, some as far as Nevada and Minnesota, and from five countries. They bring with them a wealth of research experience and an amazing set of interests and goals.
When they aren't studying or doing research:
You might find them hiking, biking, skiing, exercising, or playing sports such as soccer, tennis and cricket;
Which is good because many also enjoy cooking and baking.
We have a writer, a pianist, a singer, an actor, martial artists, and one who even can do a rap about lysosomes.
One speaks German, one is a twin, one played in the U.S. chess championship, one played basketball in Australia, and another is a Harry Potter fanatic. Several are first generation college graduates and many have work experience post-graduation. They also have a lot to be proud many awards under their belts, induction into various honor societies, and serving as role models for younger siblings.
But mostly, they bring with them a love of science and a desire to make discoveries to advance the health and wellbeing of the people of West Virginia and beyond. They will play a huge role in the research mission of the WVU Health Sciences Center. We look forward to helping them on this journey and can't wait to see what they teach us!