West Virginia Wesleyan swim teams make gift to breast cancer research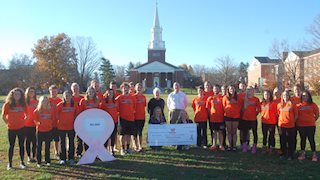 West Virginia Wesleyan's Men's and Women's Swim Teams have made a big splash to benefit breast cancer research at the WVU Cancer Institute. The teams held a swim-a-thon this past October and members received donations based on how many laps they completed. They also sold breast cancer awareness bracelets. Head Swimming Coach April Gitzen said the teams did a remarkable job of raising $3,000 and she was so proud of them.
The inspiration behind the fundraiser was Tappan Squires, the mother of assistant swim coach Katie Squires. Tappan was diagnosed with breast cancer this summer and is a patient at the WVU Cancer Institute. "I give a huge thank-you to the kids for their efforts," she said. "I also believe we are so fortunate to have WVU and the Betty Puskar Breast Care Center to go to. I feel like I am getting the best care."
Corey Johnstone of the men's swim team said it "touched his heart" to participate in the fundraiser. Jordan Miller of the women's swim team said she's had family members suffer from breast cancer, so "giving back" meant a lot to her.
"Thanks so much for your generous donation," Michael Ruppert, MD, PhD, Jo and Ben Statler Chair of Breast Cancer Research at WVU, told team members. "It boosts my morale to receive this kind of support to further the work we do in my lab. And, if any of you decide you want to pursue breast cancer research, please come see me at WVU."