WVU alumna recognized for outstanding contributions to nursing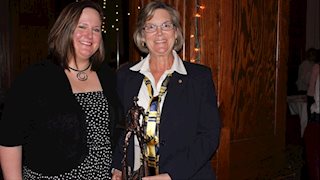 Each year the West Virginia University School of Nursing honors a graduate who has gone above and beyond in service to the University and the School, as well as achieved professional success in his/her profession. This year, the School recognized West Virginia Delegate Amy Summers as the 2016 Alumna of the Year.
Delegate Summers, a 1986 graduate of the School of Nursing, was honored for her exceptional leadership and contributions to the advancement of the nursing profession during the School of Nursing's annual alumni celebration earlier this month. During the 2016 regular legislative session, Delegate Summers served as the lead sponsor of House Bill 4334 which expanded the scope of practice for advanced practice registered nurses, providing greater healthcare access to West Virginians.
"Thanks to the dedication and innovative leadership of Delegate Summers, nurses will have more opportunities to practice with autonomy, increased recognition of their contribution within the healthcare system, and, most importantly, improved access for patients to high quality nursing care," said Tara Hulsey, dean of the WVU School of Nursing.
In addition to her work with the legislature, Delegate Summers has been an advocate for improved access to care in her home state for years, serving on the North Central Regional EMS Board and as president of the Taylor County Emergency Squad where she authored the levy which expanded paid EMS services to the entire county. She was elected to the House of Delegates in 2014 and currently serves as vice chair for the House Health and Human Resources Committee.
Delegate Summers is a registered nurse in Taylor County, and she previously served as a volunteer paramedic (19 years) and as the Taylor County Medical Examiner (11 years).
"Through her innovative leadership and passion for the profession, Delegate Summers has elevated the level of care our patients receive in West Virginia. She remains a true champion not only for nurses, but also for the people of our state," said Toni DiChiacchio, assistant dean for faculty practice and community engagement, and one of three individuals to nominate Delegate Summers for the award.
For news and information on the WVU School of Nursing, follow us on Twitter @WVUSoN, like us on Facebook or visit nursing.hsc.wvu.edu.
For more information: Contact: Tara Curtis, WVU School of Nursing, 304-581-1772
htb