WVU doctor helps community with "Finding Wellness"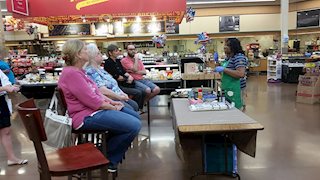 WVU doctor offers help with health
WILLIAM DEAN
For TheDPost.com

MORGANTOWN — A WVU Medicine physician has launched a free program dedicated to improving health among Morgantown area residents, called "Finding Wellness."
Dr. Gwen Emery, a family medicine doctor at Cheat Lake Physicians, created the program in cooperation with WVU Medicine, WVU and the Prevention Research Center. Kroger is also working closely with the program.
The goal is to promote healthy lifestyle habits. Emery said many insurance companies do not pay for dietitians or other nutritional counseling.
"There's a need in West Virginia," she said. "We are number one in obesity, number one in hypertension and number two in diabetes, and these are the patients I see on a daily basis."
There are three components to "Finding Wellness" — classes, support through social media and grocery store tours. The classes teach nutrition, promote exercise and debunk health myths over six weeks. Meanwhile, a private Facebook page allows members to communicate with each other, talk to program dietitians and share recipes.
Finding Wellness if a free service to the public. To sign up for Finding Wellness, please visit our website at wvumedicine.org/finding-wellness.