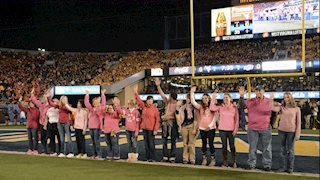 Players and fans support breast cancer survivors
The WVU Football team is joining the Mary Babb Randolph Cancer Center and WVU Medicine to raise breast cancer awareness during the "Pink Game" (WVU vs Oklahoma State) Oct. 10.
WVU football players, wearing the pink breast cancer awareness ribbon on their helmets, as well as thousands of Mountaineer fans will pay tribute to breast cancer survivors, the healthcare providers who care for them, and researchers dedicated to fighting this disease. Breast cancer survivors who've been courageously battling the disease will join the multidisciplinary team that comprises the Comprehensive Breast Cancer Program for recognition. Special guest Betty Puskar is a 30-year breast cancer survivor.
Cancer Center Director of Clinical Services Hannah Hazard, M.D., and WVU Football Coach Dana Holgorsen teamed up to record a breast cancer awareness public service announcement, which will be played at the game. Fans will have an opportunity to text financial support for breast cancer research. Text "WVU Care" to 85944 to donate $10 on game day. You can also text "WVUCare" to 41444 to donate any amount throughout the month of October.
The Cancer Center will have a pink table located in front of the North Gate at Milan Puskar Stadium where text-to-donate cards, pink wristbands and Dine Out for Breast Reconstruction Awareness (BRA) Day flyers will be distributed.
In addition, pink spotlights will be directed at the Cancer Center's mobile mammography unit, Bonnie's Bus, which will be parked above the blue lot, next to Chestnut Ridge Center, in plain view from the stadium.