WVU Heart and Vascular team invite public to Evening of Science on April 17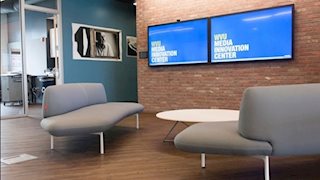 WVU Media Innovation Center, Evansdale Crossing 4th Floor, 4 - 6 p.m.
The university community and the general public will have an opportunity to learn about innovations in cardiovascular therapies and imaging at WVU's Heart and Vascular Institute during an "Evening of Science" from 4 p.m. to 6 p.m. on Mon., April 17 at the WVU Media Innovation Center in Evansdale Crossing, Morgantown. This working group was originally created as a way for teams of scientists engaged in research to meet informally to discuss their work and share ideas.
During this "Evening of Science" attendees will hear from three cardiovascular experts including:
INNOVATIONS IN CARDIOVASCULAR THERAPIES
Vinay Badhwar, M.D., executive chair of the WVU Heart and Vascular Institute and the Gordon F. Murray professor and chair in the Department of Cardiovascular and Thoracic Surgery
INNOVATIONS IN CARDIOVASCULAR IMAGING
Partho Sengupta, M.D., director of Cardiovascular Imaging and professor of Medicine in the Department of Cardiovascular and Thoracic Surgery
THE ROLE OF ADIPOSE TISSUE AND STRESS
Paul Chantler, Ph.D., associate professor of Human Performance-Exercise Physiology