WVU Medicine announces Tennis Classic results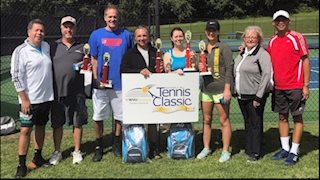 MARTINSBURG, W.Va. – Winners of the 14th Annual WVU Medicine University Healthcare Foundation Frank Sabado, Jr., M.D., Tennis Classic, which raised $16,000 in net proceeds to benefit WVU Medicine Berkeley Medical Center, were recently announced.
The champions were Jeff Petrucci in the men's division and Jana Bressler in the women's division. Finishing second were Mark Manning in the men's division and Erin Mumaw in the women's division. Jay Steckman had the most aces.
The University Healthcare Foundation sponsors this annual fall fundraising event along with a group of local physicians and community leaders who serve on the organizing committee. Ernie Agbayani, M.D., and Roberto Reyna, M.D., served as this year's co-chairs.
Since the tournament was established in 2004, more than $187,000 has been raised to fund patient care equipment at Berkeley Medical Center, the hospital's community service projects, and, most recently, a scholarship for area students studying pre-med.
The tennis classic is held annually on the second Saturday in September. For more information, call 304-264-1223.
For more information: Teresa E. McCabe, WVU Medicine Eastern Panhandle Vice President of Marketing and Development, 3