TODAY is the deadline for WVU Medicine 2018 benefit open enrollment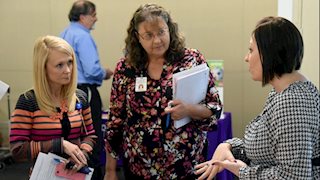 WVU Medicine 2018 benefit open enrollment is underway from Wednesday, Nov. 1, through Wednesday, Nov. 15.
Reminder: If you don't complete the open enrollment process, you will receive default coverage for medical, dental, and vision plans for 2018. The coverage level will be based on your 2017 coverage level for you and your dependents; if you didn't have coverage for these plans in 2017, you will not have coverage in 2018.
Eligible employees are encouraged to take these steps to ensure they are well-informed about the 2018 open enrollment options:
Read the open enrollment guide.
Review the open enrollment FAQs.
Use ALEX, an interactive online tool that makes it easy to understand ways to get the most value from your benefit elections. More than 7,600 WVU Medicine employees have used ALEX.
Everything you need to know about open enrollment is available on the hr.wvumedicine.org website, including details on medical and prescription drug coverage, flexible spending accounts, dental and vision insurance, life and accidental death and dismemberment insurance, and the Employee Assistance Program. Details on how to enroll are also included.
Educational forums were recently held to help inform employees about the benefit changes. If you didn't get a chance to attend a forum, check out the presentation (only available on CONNECT).
If you still have questions after reviewing the website and presentation, contact the HR Service Team at 1-833-599-2100 (available weekdays from 7 a.m. to 4:30 p.m.).
A reminder about retirement benefits: You will continue to have the same retirement plan on Jan. 1, 2018, as you currently have with your hospital. Unlike prior years, retirement plan elections are not included in the 2018 open enrollment process. Retirement plan elections can be changed at any time by logging into UltiPro, clicking the "Life Event" tab, and clicking "Retirement Plan Enrollment."
Employees with no or limited access to computers can use the EPIC computer rooms in the Operation Support Center (formerly ROC2). The schedule for hours and availability is posted here.