WVU Medicine Berkeley, Jefferson Medical Centers recognize employees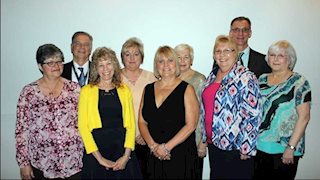 CHARLES TOWN, W.VA. – WVU Medicine Berkeley Medical Center and Jefferson Medical Center recently recognized 219 employees for their years of service at a celebration dinner held at the Hollywood Casino ballroom.
President and CEO Anthony P. Zelenka thanked the group for their dedication and service to both hospitals over the years. Years of service ranged from five years to 40 years. The honorees represented a total of 2,770 years of service to Jefferson and Berkeley Medical Centers.
As part of the evening's program, the 2016 Quality Service Award winners were announced for each hospital. Amanda Barnhard, speech therapy, was selected from the monthly QSA winners at Berkeley Medical Center. Ellen Edwards, environmental services, was named the QSA winner at
Jefferson Medical Center from its quarterly winners.
For more information: Teresa E. McCabe, WVU Medicine Eastern Panhandle Vice President of Marketing and Development, 304-264-1223