WVU Medicine Berkeley Medical Center awarded Joint Commission Chest Pain Certification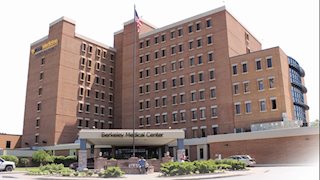 MARTINSBURG, W.VA. – WVU Medicine Berkeley Medical Center has once again earned The Joint Commission's Gold Seal of Approval® for its Chest Pain program. The certification award recognizes Berkeley Medical Center's commitment to providing safe and effective patient care and the hospital's dedication to continuous compliance with The Joint Commission's standards.
Berkeley Medical Center underwent a rigorous on-site review in May 2017 to achieve re-certification, having earned initial certification in 2015. A Joint Commission expert evaluated Berkeley Medical Center for compliance with national disease-specific care standards as well as with chest pain-specific requirements. Clinical practice guidelines and performance measures also were assessed.
Certification requirements for a chest pain program address three areas: compliance with consensus-based national standards; effective and consistent use of appropriate, evidence-based clinical practice guidelines for the Acute Myocardial Infarction (AMI) and Acute Coronary Syndrome (ACS) patient populations; and collection and analysis of a minimum of four performance measures specific to the chest pain patient population (a minimum of two performance measures must be clinical in nature).
"Berkeley Medical Center has thoroughly demonstrated a high level of care for patients with chest pain," Patrick Phelan, executive director of Hospital Business Development for The Joint Commission, said. "We commend Berkeley Medical Center for becoming a leader in chest pain care, potentially providing a higher standard of care for patients in its community."
"Berkeley Medical Center is pleased to once again receive Chest Pain Certification from The Joint Commission, the nation's premier healthcare quality improvement and accrediting body," Anthony P. Zelenka, president and chief executive officer, said.
Zelenka attributes the success of the cardiovascular program at Berkeley Medical Center to the team of dedicated physicians, nurses, and professional staff who have made the program what it is today.
"This certification provides us with the framework to maintain a culture of excellence and continually improve the care we provide for our community," he added.
The Joint Commission's Disease-Specific Care Certification Program, launched in 2002, is designed to evaluate clinical programs across the continuum of care. Certification requirements address three core areas: compliance with consensus-based national standards; effective use of evidence-based clinical practice guidelines to manage and optimize care; and an organized approach to performance measurement and improvement activities.
For more information: Teresa E. McCabe, WVU Medicine Eastern Panhandle Vice President of Marketing and Development, 3