WVU Medicine Berkeley Medical Center pioneers Mazor Robotics Mazor X™ Spine Surgery in Eastern Panhandle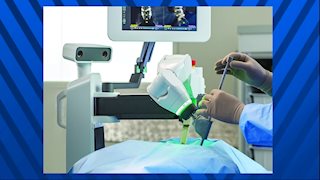 MARTINSBURG, W.VA. – WVU Medicine Berkeley Medical Center is the first in the region and the state to add the Mazor X™ Surgical Assurance Platform to its new neurosurgery service line, WVU Medicine Brain and Spine. The Mazor X system combines unprecedented pre-operative planning tools and analytics with unparalleled intra-operative guidance, giving Berkeley Medical Center patients the most advanced spinal surgery options available.
"After a comprehensive study of surgical guidance systems on the market, we chose the Mazor X system to provide us with the highest level of pre-operative assessment and intra-operative precision," John Caruso, M.D., medical director of WVU Medicine Brain and Spine at Berkeley Medical Center, said. "As spinal surgery has evolved, more focus has been placed on minimizing trauma to the body during surgery and expediting a return to function through the use of minimally invasive techniques, and this is where Mazor X can deliver its greatest value."
Minimally invasive procedures can mean less pain, less blood loss, smaller incisions, shorter hospitalizations, and shorter recovery time for patients. Smaller incisions usually pose a challenge to surgeons due to the limited view of the anatomy. The Mazor X system helps to overcome this challenge with a 3D comprehensive surgical plan and analytics that give the surgeon unprecedented information before the surgery even starts. The result? The surgeon may operate with greater precision, efficiency, and confidence.
"Acquiring Mazor X is part of our continuous commitment to delivering the highest quality care for our patients," Anthony P. Zelenka, president and CEO of Berkeley Medical Center, said. "We believe in providing the most advanced technologies and are proud to be the first hospital in our region and West Virginia to offer the Mazor X system, further enabling our surgeons to achieve the best possible patient outcomes."
For more information about Mazor Robotics spine surgery with Mazor X, visit www.MazorRobotics.com.
For more information: Teresa E. McCabe, WVU Medicine Eastern Panhandle Vice President of Marketing and Development, 3