WVU Medicine Children's establishes Pediatric Craniofacial Center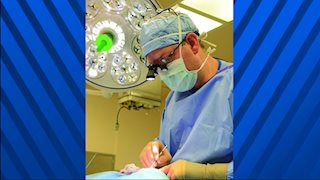 MORGANTOWN, W.Va. – WVU Medicine Children's has established a Pediatric Craniofacial Center to deliver care to children with cleft lip/palate and other craniofacial anomalies in West Virginia and the surrounding region.
The Center, under the direction of pediatric plastic and craniofacial surgeon Aaron Mason, M.D., manages patients with traumatic and congenital craniofacial abnormalities and includes five programs – the Cleft Lip and Palate Program, the Craniofacial Program, the Vascular Anomalies Program, the Infant Airway Program, and the Craniofacial Trauma Program.
The goal of the team is to provide focused, state-of-the-art care by several subspecialists, including but not limited to plastic surgery, oral and maxillofacial surgery, dentistry, neurosurgery, otolaryngology, genetics, audiology, psychological counseling, speech therapy, and social work.
Experts in the Cleft Lip and Palate Program repair cleft lips and palates and manage resulting and related complications, including velopharyngeal insufficiency (VPI), which occurs when the body cannot close the communication between the nasal cavity and the mouth; dental problems; and ear and hearing problems.
The Craniofacial Program treats infants and children with craniosynostosis, the premature closing of the fibrous joints between the bones of the skull; oculoauricular verterbral spectrum, which includes malformations of the eyes, ears, and spine; microtia, underdevelopment of the external part of the ear; acquired posterior plagiocephaly, a flat spot on the back or side of the head; and other rare conditions.
Providers in the Vascular Anomalies Program treat hemangiomas, benign tumors that appear as red birthmarks, and capillary, lymphatic, and venous malformations.
The Infant Airway Program treats conditions that cause obstruction of the airway, including Pierre Robin Syndrome, a collection of head and facial abnormalities, and mandibular hypoplasia, an incomplete or under-formation of the lower jaw.
Members of the Craniofacial Trauma Program treat craniofacial fractures and other related trauma-induced facial concerns.
"We are excited to be able to provide West Virginia with comprehensive, multidisciplinary pediatric care for these conditions," Dr. Mason said. "Patients used to need to leave the state for this level of care, now they can remain in state, closer to home."
For more information: Angela Jones-Knopf, Manager of Media Relations, 304-293-1413