WVU Medicine Children's Infant Airway Team cares for infants with severe airway obstruction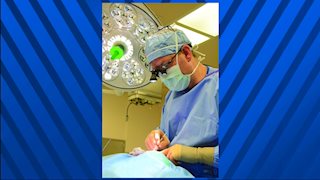 MORGANTOWN, W.Va. – WVU Medicine Children's Pediatric Craniofacial Center now has an Infant Airway Team for infants born with severe airway obstruction due to a short lower jaw (mandible).
Some infants are born with a very small or recessed lower jaw. In most cases, this does not cause any problems at all, but, in a small number of infants, it can cause serious problems in the first few months of life. This is mostly due to the tongue moving back into the throat when the child breathes in. The tongue then partly or completely blocks the airway and can cause serious disruption to breathing and feeding.
Most often, lengthening a small or recessed lower jaw is accomplished through a surgical method called mandibular distraction. The procedure involves surgical insertion of distraction (lengthening) devices into the jaw. These devices allow the jaw bone to be lengthened. As the jaw is lengthened, the airway opens up and allows the child to breathe clearly and feed successfully.
The Infant Airway Team is a group of multidisciplinary providers, including anesthesiologists, otolaryngologists, neonatologists, gastroenterologists, geneticists, and pediatric plastic surgeons, who collectively stabilize and care for these infants from birth through treatment.
"For these small patients, either a tongue-lip operation or mandibular distraction are options for treating the obstruction," Aaron C. Mason, M.D., a pediatric craniofacial/plastic surgeon and programming director of the Pediatric Craniofacial Center, said. "The Pediatric Craniofacial Center is pleased to be able to offer these services for those infants in West Virginia who require it."
For more information: Angela Jones-Knopf, Manager of Media Relations, 304-285-7259