WVU Medicine Children's using 3D models to better treat patients with complex heart problems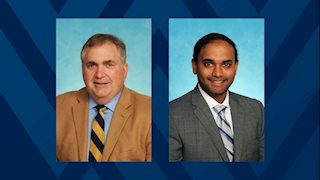 MORGANTOWN, W.Va. – While many kids will be hoping that Santa will leave a high tech gift of some sort under their Christmas trees, one little boy in Wellersburg, Pa., will be celebrating the holidays with his family thanks to a 3D model of his heart that was printed to help doctors at WVU Medicine Children's determine the best approach to treat him.
In mid-June 2015, Desirae and Chris Powell found out that one of the twin boys Desirae was carrying had heart defects that would require surgery. Two weeks later, 29 weeks into Desirae's pregnancy, the boys – Colten and Daniel – arrived and were transported by ambulance to the Neonatal Intensive Care Unit (NICU) at WVU Medicine Children's.
"They were both somewhat small. We had to watch Colten for a long time because we have better outcomes if we wait until the babies are bigger," Lee Pyles, M.D., pediatric cardiologist at WVU Medicine Children's, said. "We were always from the get-go concerned about the appearance of his heart. It's a fairly rare combination of problems that he has. But, the main problem that he has is called double outlet right ventricle. And, along with that, there was an abnormality of the inflow valve to the left side of the heart called the mitral valve. The abnormal suspension system of the mitral valve created all the problems for Colten."
Double outlet right ventricle occurs when both the aorta and pulmonary artery come off of the right ventricle instead of the aorta coming off the left ventricle, as it normally does. In addition, Colten's left ventricle was much smaller than his right ventricle.
Robert Gustafson, M.D., pediatric cardiothoracic surgeon at WVU Medicine Children's performed Colten's first surgery in July 2016. Though the procedure was successful, Colten would require additional surgeries and close follow-up care.
Following a heart catheterization in May, the Powells were informed about the opportunity to have a 3D model of Colten's heart made.
"We suggested the 3D model because we knew it would allow us to ascertain the anatomy of Colten's heart and identify whether the defect could be closed in such a way to allow normal functioning of both sides of the heart," Fawwaz Shaw, M.D., WVU Medicine Children's pediatric cardiothoracic surgeon, said.
"The 3D printed model of the heart was created in the actual size of Colten's heart using images obtained from a CT scan. It was sliced to provide crucial anatomic details critical to the decision making regarding the type of operative reconstruction. It also minimizes the time we spend in the operating room and allows us to counsel families regarding the operative plan for their child."
The surgery was performed on Sept. 6, and Colten was discharged four days later.
"He did wonderfully with the operation and really took to it very well. He was sent home on minimal medicine," Dr. Pyles said. "He had restrictions only for his incision in his breastbone. That went for six weeks post-op. He had some precautions if he needed another operation. If he needed his appendix out, for example, we'd give him an antibiotic. But, basically, with respect to his heart, he's not restricted."
Colten will continue to be closely followed by Pyles and will eventually need another surgery. But for now, he's doing very well.
"Colten is doing wonderfully since the surgery. He was back to his normal self the day after coming home," Chris said. "He keeps right up with his brother; so far, his condition hasn't limited his ability to do anything a 2-year-old would want to do."
Pyles said this technology results in better, more personalized care for patients.
"Cardiologists with some grey hair like myself learned a lot about this kind of complex anatomy in a pathology lab back in the day. We could only learn about patients that we thought were going to be similar to the child we were going to work on. Surgeons, cardiologists, radiologists, we all went to path lab back in the day," he said. "Nowadays, with MRI, CT, and 3D models, people can carefully study the exact heart that needs the repair. The care is tailored to the child now."
That kind of care means a lot to families like the Powells.
"We feel comfortable knowing our son is getting the best care possible," Chris said. "And, as a parent, that means the world to us."
WVU Medicine Children's – currently located on the sixth floor of J.W. Ruby Memorial Hospital, WVU Medicine's flagship hospital – provides maternal, infant, and pediatric care for West Virginia and the surrounding region, giving care to high-risk mothers, premature infants, and children with life-threatening conditions through adolescence to adulthood. In 2020, WVU Medicine Children's will move into a new, 10-story tower to be attached to Ruby Memorial. For more information, including ways to support the $60-million capital campaign for Children's new home, visit www.wvumedicine.org/childrens.
For more information: Angela Jones-Knopf, Manager of Media Relations, 304-285-7259