WVU Medicine Jefferson Medical Center acquires new anesthesia monitoring system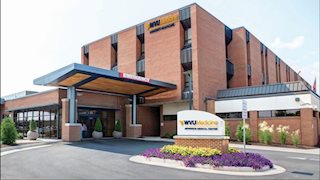 RANSON, W.VA. – WVU Medicine Jefferson Medical Center has recently acquired anesthesia equipment that allows anesthesia staff the capability to monitor EEGs or "brain waves" in the operating rooms.
The GE Datex-Ohmeda Entropy™ Module is used for adult and pediatric patients older than 2 years for monitoring the state of the brain by data from EEG (electroencephalogram) and FEMG (facial electromyography) signals. Entropy measures the activity of the brain, which is the target organ for anesthetic medication, and has been shown to reflect the different phases of anesthesia.
"This new equipment allows us to optimize depth of anesthesia so that patients can be placed under the precise level of anesthesia that suits both the individual patient and the surgical procedure," Lorne Sheren, M.D., J.D., director of anesthesiology at Jefferson Medical Center, said.
Assessing the depth of anesthesia remains a highly relevant clinical objective, according to Dr. Sheren. Too light an anesthesia can result in patient awareness during surgery, which may lead to post-traumatic stress disorder in some patients. Too deep an anesthesia can result in prolonged recovery and may increase the risk for adverse postoperative outcomes.
"The use of EEG-based monitors (entropy) along with standard clinical monitoring and effective clinical skills is the best approach to accurately gauge the patient's depth of anesthesia during surgery," Sheren said, adding that it also enhances safety and significantly reduces the risk of unintentional awareness during surgery.
"We are extremely excited to have this new anesthesia service at JMC," Jene Smith, director of surgery at Jefferson Medical Center, said. "Combining safety and state-of-the-art equipment allows us the opportunity to provide excellent surgical outcomes for our patients."
Jefferson Medical Center offers general and advanced surgical services, including gall bladder, breast and colon surgery, orthopaedic and joint replacement program, otolaryngology (ear, nose, and throat), gynecology, plastic/cosmetic surgery, urologic surgery, and ophthalmologic surgery. Many of these surgeries are performed using laparoscopy and endoscopy. Currently, Jefferson Medical Center is the only hospital in West Virginia offering FemtoLaser cataract surgery.
For more information: Teresa E. McCabe, University Healthcare Vice President of Marketing and Development, 304-264-1223