WVU Medicine Jefferson Medical Center Big Latch On a huge success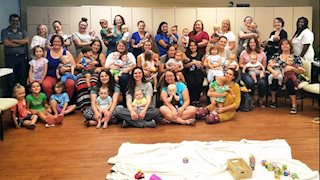 RANSON, W.Va. - WVU Medicine Jefferson Medical Center hosted its seventh annual Big Latch On event on Saturday, Aug. 5. Every year in August, the World Alliance for Breastfeeding Action organizes the Big Latch On during World Breastfeeding Week to raise awareness of the benefits of breastfeeding and the need for global support.
To mark this occasion, thousands of breastfeeding women and their babies/children across the world gathered in their own communities on August 5 to take part in the Big Latch On, a synchronized breastfeeding event in multiple locations.
The conference room at Jefferson Medical Center was literally crawling with babies on Saturday as 26 children latched on to 23 mothers at 10:30 a.m. to participate in the Big Latch On. According to Amy Blue, R.N., organizer of the local event, approximately 62 people, including physicians, board-certified lactation consultants, and RN volunteers, were present at Saturday's Big Latch On.
The first Big Latch On took place in New Zealand in 2005 and has now taken off globally. It was introduced to Portland, Oregon, in 2010 by Joanne Edwards, and in 2012, 8,862 women participated in the Global Big Latch On.
The Big Latch On is informed by the principles of community development, providing the opportunity for breastfeeding women to get together in their local communities, host their own events, and identify opportunities for on-going support.
For more information, visit the web site at www.biglatchon.org.
For more information: Teresa E. McCabe, WVU Medicine Eastern Panhandle Vice President of Marketing and Development, 3