WVU Medicine Jefferson Medical Center named among top 100 critical access hospitals in the country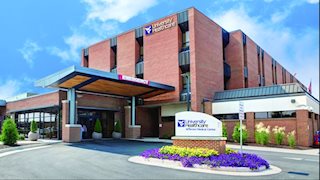 RANSON, W.Va. - WVU Medicine Jefferson Medical Center in Ranson has been designated one of the top 100 critical access hospitals in the country, according to a new study presented at a recent conference of the National Rural Health Association.
The study, conducted by iVantage Health Analytics, compared factors, such as quality and outcomes, patient safety, costs and charges, and patient satisfaction, in rural and critical access hospitals across the country. Jefferson Medical Center was the only West Virginia hospital named a top performer.
"This is the second time that Jefferson Medical Center made the Top 100 Critical Access Hospital list," Neil McLaughlin, vice president of operations at University Healthcare, said.
The hospital was awarded the designation in 2014, marking the first time that a West Virginia hospital made the top 100 list.
Jefferson Medical Center scored in the top 100 of Critical Access Hospitals on the iVantage Hospital Strength Index, which recognizes hospitals that provide a safety net to communities across rural America. The Index is the industry's most comprehensive rating of U.S. acute care hospitals and the only study to include the country's 1,300 critical access hospitals.
Critical access hospitals make up approximately 25 percent of hospitals in the United States. They have a maximum of 25 beds and provide rural communities with emergency and primary medical care, serving nearly 80 million people.
"A national designation does not come easily," McLaughlin said, noting that the metrics from this study covered a broad range of topics, including health outcomes after hospitalization, affordability of care, market share, and financial stability. "We are very proud of our entire healthcare team. Their dedicated and consistent efforts aided Jefferson Medical Center to once again achieving top performer status."
For more information on the 2016 top rural performers, visit www.ivantageINDEX.com.
For more information: Teresa E. McCabe, University Healthcare Vice President of Marketing and Development, 304-264-1223