WVU Medicine to offer free screenings for first responders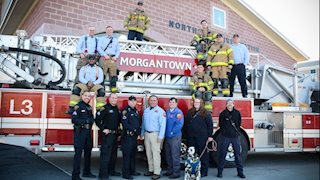 MORGANTOWN, W.Va. – WVU Medicine Occupational Medicine is offering free health services to first responders at Protecting Our Local Heroes from 8 a.m. to 6 p.m. on Monday through Thursday, Sept. 11-14.
All first responders, including firefighters, law enforcement, EMS, and search and rescue, will have the opportunity to take part in eight different free services, including:
Health history and physical exam, including OSHA questionnaire review, if appropriate
Respirator fit testing
Audiogram
Vision screening
Spirometry
EKG
Wellness labs
Height, weight, vital signs, BMI
Chest X-ray
Participants can also take advantage of the following additional services for a reduced fee:
Commercial Drivers' License physical exam
Additional lab work (TSH, A1C, PSA)
Immunizations (Hepatitis A and B, Tdap, Tetanus, and Varicella)
TB skin test
All medical results are kept confidential and will only be shared with the patient. Results of respirator fit testing will be shared with their departments to assist with OSHA compliance.
The screenings will take place at the WVU Occupational Medicine clinic on Evansdale campus located at 390 Birch Street in Morgantown.
Call the clinic at 304-293-3693 for more information or to schedule your department. Walk-ins are welcome.
For more information: Angela Jones-Knopf, Manager of Media Relations, 304-285-7259