WVU Medicine University Healthcare Foundation 30th Bernie Hutzler Golf Classic chairs named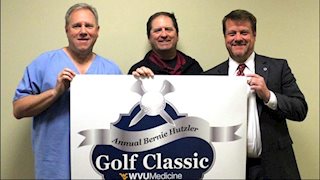 MARTINSBURG, W.Va. -- Dan Sytsma of WVU Medicine Jefferson Medical Center and Charlie Lowery, CNB Bank, have been named co-chairs for the 2017 University Healthcare Foundation Bernie Hutzler Golf Classic.
The annual golf classic, which benefits Berkeley Medical Center in Martinsburg and Jefferson Medical Center in Ranson, will be held on Monday, June 5 at Cress Creek in Shepherdstown. More than $1.5 million in proceeds has been raised as a result of past golf tournaments at both hospitals.
This year marks the 30th year for the tournament, which was established in 1988 as a fundraiser and "friend" raiser for Berkeley Medical Center. Named in memory of University Healthcare Charter Board Director Dr. James "Bernie" Hutzler, the tournament was expanded in 2010 to benefit both Berkeley and Jefferson medical centers.
Proceeds from this year's golf classic will be used to purchase a newborn hearing screening system at Jefferson Medical Center, and equipment for the new Outpatient Surgery Center at Berkeley Medical Center in MOB3 across from the hospital.
The 2017 Bernie Hutzler Golf Classic will feature two flights with call to carts at 7 a.m. and 12:45 p.m. Registration will begin 30 minutes prior to the start of each flight. Flight preference will be granted on a first-come, first-served basis. Golfers may form their own teams but will be subject to handicap restrictions as determined by the Golf Pro at Cress Creek.
Sponsorship levels include the $5,000 Presenting, $2,500 Underwriting, $1,000 Sponsor, $500 Patron and $200 Golfer. An optional $20 Player's Package is available for purchase and includes a mulligan, forward tee, and one pro's drive on #3. Portions of the sponsorship and golfer package are tax deductible.
For more information on the 2017 Bernie Hutzler Golf Classic, contact Teresa McCabe or Jody Wolfe at 304-264-1223 or email tmccabe@wvumedicine.org or jowolfe@wvumedicine.org.

Photo caption: 2017 Bernie Hutzler Golf Classic Co-Chairs Dan Sytsma (left) and Charlie Lowery (right) are pictured with Cress Creek Golf Pro John Francisco (center).
For more information: Teresa E. McCabe, University Healthcare Vice President of Marketing and Development, 304-264-1223