WVU Medicine-WVU Hospitals Diabetes Education Center offering variety of classes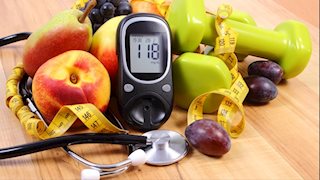 November is National Diabetes Awareness Month
MORGANTOWN, W.Va. – According to the Centers for Disease Control and Prevention, more than 30 million people in the United States have diabetes, and 1 in 4 of them don't know they have it. The WVU Medicine-WVU Hospitals Diabetes Education Center is offering Diabetes Prevention Classes and other informational sessions to help keep more people from becoming a part of that statistic.
Located at J.W. Ruby Memorial Hospital, the Diabetes Education Center has a staff of registered nurses, certified diabetes educators, and registered dietitians who are dedicated to helping people with diabetes or who are at risk for developing diabetes.
The Center has been accredited by the American Diabetes Association since June 25, 2004. Classes and other ongoing services offered at the Diabetes Education Center include:
Diabetes Support Group, which is free and open to the public. The next session, "Preparing for the Holidays," will be held from 6:30 to 7:30 p.m. on Thursday, Nov. 9 at St. Mary Roman Catholic Church in Star City.
Diabetes Prevention Classes, which are open to the public and meet on Thursdays at Ruby Memorial Hospital.
Diabetes Education Group Classes, which require a physician's referral.
Diabetes Education Individual Classes, which are determined by patient needs, physician order, and provider availability.
Other services offered by the Center include Medical Nutrition Therapy and Gestational Diabetes Instruction.
"A diagnosis of diabetes or pre-diabetes can be overwhelming," Vicki Chase, M.S.N., R.N., department coordinator for the Diabetes Education Center, said. "We invite anyone who has been diagnosed or is at-risk of being diagnosed to consider meeting with one or more of our educators for the support and encouragement needed to live well."
For more information on any of these services, including assistance with obtaining a physician's referral for a class, call the Diabetes Education Center at 304-598-4391 ext. 1.
For more information: Angela Jones-Knopf, Manager of Media Relations, 304-285-7259