WVU Medicine-WVU Hospitals names Nurses of the Year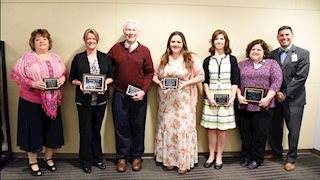 MORGANTOWN, W.Va. – Lisa Henry, F.N.P.-B.C., and Christy Orndorff, R.N., have been named 2017 Nurses of the Year at WVU Medicine-WVU Hospitals. They were honored at the Nurse Recognition Luncheon held today (May 11) in celebration of National Nurses Week, which is celebrated May 6-12 annually.
Henry, heart failure program coordinator at the WVU Heart and Vascular Institute, was named 2017 Magnet® Nurse of the Year. WVU Medicine-WVU Hospitals is the only hospital in the state to receive Magnet designation by the American Nurses Credentialing Center.
Janie Shipe-Spotloe, P.A.-C., WVU Medicine-WVU Hospitals director of advanced practice professionals, nominated Henry for the award and described her as someone who "exemplifies a myriad of clinical and professional transformational nursing leadership qualities."
Orndorff, who works in Pediatric Supportive Care Services at WVU Medicine Children's, was named the 2017 Morgantown Campus Nurse of the Year. She was nominated by Cheryl Jones, R.N., director of Children's.
"This skilled nurse knows that care does not start or end with discharge. You can find her counseling patients with high-risk birthing dilemmas, closing the loop at a funeral, and providing distance education to a partner hospital," Jones wrote of Orndorff. "Her presence knows no clock, and as part of an interdisciplinary team, she may be found late on a Friday night consoling families
and staff."
Other finalists for the award included Francis Boyle, R.N.; Nancy Gifford, R.N.; Annina Guzek, R.N.; and Samantha Keener, R.N.
During the luncheon, 10 nurses were recognized for having worked more than 35 years at WVU Medicine-WVU Hospitals.
Violet Whipkey, P.R.N., who is 90 years old, was recognized for being the oldest working nurse on the Morgantown Campus. In her 65-year nursing career, Whipkey has worked in Georgia, Ohio, South Carolina, Oklahoma, Antigua, and Pennsylvania, in addition to West Virginia.
When asked about her words of wisdom for her fellow nurses, Whipkey said, "Just always remember, patients come first. If the patients weren't there, we wouldn't need to be here, and that is what it is all about."
The first national week of recognition for nurses was celebrated October 11-16, 1954, to observe the 100th anniversary of Florence Nightingale's mission to Crimea. National Nurses Week was first observed on the current dates, which coincide with Nightingale's birthday on May 12, in 1991, and it became an annual event in 1994.
For more information: Angela Jones-Knopf, Manager of Media Relations, 304-293-7087