WVU researcher receives $1.6 million to fight inflammation in neurodegenerative diseases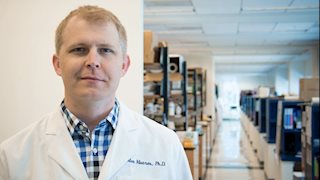 Inflammation is overwhelmingly beneficial, helping to fight illnesses caused by bacteria and viruses. However, most neurological diseases involve inflammation in the brain, which is thought to contribute to or exacerbate diseases.
A West Virginia University researcher has been recently awarded $1.6 million to conduct research on how harmful inflammation can be targeted without disrupting normal immune function.
Gordon Meares, Ph.D., was selected by the National Institutes of Health (NIH) to receive the funding over the next five years.
"Our approach is to examine how cell stress and cell damage drive inflammation as these are prominent features of neurological diseases," Dr. Meares said. "We have found that by targeting the mechanisms by which cell stress drives inflammation, we can limit what we hypothesize is potentially harmful inflammation without disrupting normal immune responses."
Researchers are poised to identify new therapeutic targets for diseases. Currently there are few and mostly ineffective treatments for neurodegenerative diseases such as dementias and progressive Multiple Sclerosis. Through his research, Dr. Meares hopes to contribute to the development of new treatments.
"We hope to detect new therapeutic targets for neurodegenerative diseases," he said. "We have identified a previously unknown signaling pathway that could be a new drug target to selectively control inflammation."
Dr. Meares is a strong proponent of collaboration as a key to success. His research utilizes tools and techniques across the university and is currently expanding into the area of stroke, joining efforts facilitated by WVU Stroke Center of Biomedical Research Excellence (WVU Stroke CoBRE). The state has one of the highest incidences of stroke in the nation propelling a growing need to address innovative stroke research.
Meares is an assistant professor in the Department of Microbiology, Immunology and Cell Biology. He attributes his passion for research to curiosity and freedom that are seldom experienced in other professions. He is hands-on mentor to his students, and his lab is currently preparing a cohort of young scholars paving the way for a new generation of scientists conducting innovative, cutting-edge research.
CONTACT:
Tara Scatterday
WVU School of Medicine
Director, Communications and Marketing
304.293.0630 | tdscatterday@hsc.wvu.edu