WVU's Women on Wellness retreat set for Sept. 24 in Marion County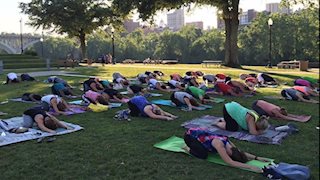 The annual Marion County Women on Wellness (WOW) retreat, in partnership with the Mannington WOW Community Partnership planning committee and National Center of Excellence in Women's Health at West Virginia University, will be held on Saturday, Sept. 24, from 8 a.m. to 3:30 p.m.
Registration, health screenings, and breakfast begin at 7:30 a.m., and the program begins at 9 a.m. at Blackshere Elementary School, 77 Blackshere Drive, Mannington.
The Women on Wellness (WOW) retreats offer supportive community health programming that empowers and motivates women to make positive lifestyle changes for themselves and their families. In tune with WOW's message of personal empowerment, participants go through a three-part program of various activities meant to maintain, move, and nourish the body and spirit.
2016 sessions include belly dancing, yoga, zumba, interval training, kick boxing, healthy hearts, the truth about heart health, going back to school, Affordable Care Act, and journaling. Health screenings are also included. Ultimately, the goal is for women to walk away with their own healthy lifestyle plan and the confidence and knowledge they need to make healthy decisions for themselves and their families.
"West Virginia is near the bottom nationally in almost all health measures, and the fact that the United States ranks 35th globally indicates that something is clearly wrong," Betty Critch, executive director of the CoE, said. "In response to this need, we developed a behavior change approach to healthy lifestyles, called Women on Wellness."
Blackshere Elementary School will host the Marion County WOW retreat this fall. Registration is $25, with scholarships and gift certificates available, and no woman or girl will be turned away. The program is also free for women in the military – active duty, guard, reserves, veterans, and wives/significant others of service personnel.
Community Partners include: Jane DeVaul, principal of Blackshere Elementary School; Marion County Superintendents Office; Fairmont State University; WVU Medicine Heart and Vascular Institute; The HUB; Healthy Kids and Healthy Families Coalition; Catholic Ministries; West Virginia Physical Activity Network; Marion County Parks and Recreation; Heston Farms, and more.
The CoE at West Virginia University is a nonprofit organization focused on providing care to women at every stage of their lives. The West Virginia center is one of 20 located throughout the country. Unlike its sister centers, which are located in urban areas, the WVU Center of Excellence in Women's Health has a statewide reach.
For more information on WOW retreats, or to register, visit www.WOWICanDoIt.com, https://www.facebook.com/WOWMarion or contact Betty Critch at 304-293-7675 or email wvhealthywomen@hsc.wvu.edu.