WVU School of Medicine hosts pre-med advisors workshop; offers tips on applying to medical school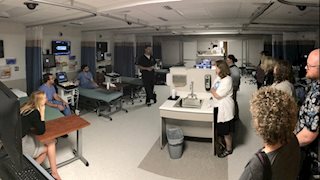 Making the decision to attend medical school is no easy task. How do you know which undergraduate major will be most suitable? Should you participate in multiple extracurricular activities or be devoted to just a few? Is it best to major in the sciences, or can other, unconventional academic paths make a student stand out more? What score is acceptable when taking the Medical College Admission test (MCAT)?
These are just a few of the questions that faculty and staff from the West Virginia University School of Medicine were on hand to answer during the Pre-Medical Advisors Workshop. Pre-med advisors from WVU and undergraduate colleges in West Virginia and around the region were invited to participate in a day of activities innovatively designed to equip them with information and resources to help facilitate their students' goals of being accepted in medical school, particularly at WVU.
"Our event fostered fruitful interactions with attendees who expressed their appreciation of our partnering with them to help educate our future physicians with the ultimate goal of promoting a healthier West Virginia," Linda Nield, M.D., assistant dean of admissions for WVU's M.D. program. "Our school's mission and high academic standards were emphasized, and our admissions process was highlighted."
In addition to covering the prerequisites needed to get into medical school, the full day of workshops included topics such as, "Using MCAT Scores as Predictors of Academic Success," "MD/PhD Scholars Program," "Ultrasound in Medicine," and the "Lifestyle/Culinary Medicine Track." Second- and third-year medical students participated in a panel and provided tours of the WV STEPS Simulation Center and ultrasound demonstrations.
It is never too early to begin planning for undergraduate education and for entrance into a health sciences graduate program, such as medical school. Considering the options and creating a strategy that enhances a student's portfolio and background can be helpful.
For news and information on the WVU School of Medicine, follow us on twitter @WVUMedSchool, like us on Facebook or visit medicine.hsc.wvu.edu.
—WVU—
TS: 08/25/2017
Contact: Tara Scatterday
Director, Communications and Marketing
WVU School of Medicine
304-293-0630 | tdscatterday@hsc.wvu.edu