WVU School of Nursing honorary to celebrate golden anniversary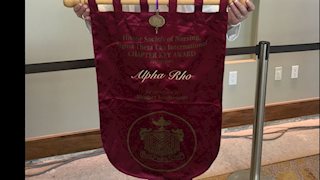 The WVU School of Nursing's Sigma Theta Tau International Alpha Rho Chapter will celebrate its golden anniversary with a special celebration on Saturday, October 15, 2016, in Morgantown.
Members of Sigma Theta Tau International Honor Society will host a banquet honoring the founding members and past presidents of the Alpha Rho Chapter. The event begins at 5:30 p.m. with a cocktail reception, followed by dinner and celebratio
n of the chapter.
The Alpha Rho Chapter was founded in 1966, and since that time more than 1,950 students, faculty and other nursing professionals have been inducted into this prestigious honorary. In 2015, the Alpha Rho Chapter was recognized with its' first-ever Chapter Key Award during Sigma Theta Tau's 43rd Biennial Convention in Las Vegas. The Chapter Key Awards honor chapters who excel in membership recruitment/retention; publicity and programming; professional and leadership development; and local, national and international collaboration.
Sigma Theta Tau International works to advance world health and celebrate nursing excellence in scholarship, leadership and service. In addition to networking and service opportunities the Alpha Rho Chapter encourages members to contribute to the advancement of nursing through research via a grants committee which was established to provide grant support for this research.
The cost for dinner is $50.00 per person (cash bar available). For more information, including reservations, please contact Cathy Cayton (304-293-1775) in the School of Nursing.
For news and information on the WVU School of Nursing, follow us on Twitter @WVUSoN, like us on Facebook or visit nursing.hsc.wvu.edu.
For more information: Contact: Tara Curtis, WVU School of Nursing, 304-581-1772
tec