WVU School of Pharmacy Health Outcomes Ph.D. program celebrates silver anniversary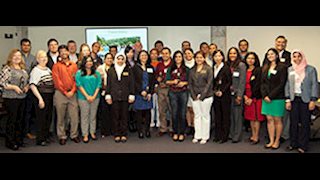 MORGANTOWN, W.Va. — The WVU School of Pharmacy's Health Outcomes Research graduate Ph.D. program held a celebration recently in observance of the program's silver anniversary.
"It is hard to believe how the program has grown from enrolling our first student in 1989 to the present day with the 15 Ph.D. students that we have in various stages of Ph.D. completion," said S. Suresh Madhavan, Ph.D., M.B.A., professor and chair of the Department of Pharmaceutical Systems and Policy and founder of the program.
The program began in 1989, at which time graduate students joined the Ph.D. program in Pharmaceutical Sciences with a track in Behavioral and Administrative Pharmacy. In 1997, the study concentration and title of the track was changed to Health Outcomes Research. Students now receive a degree in Pharmaceutical and Pharmacological Sciences with a focus in Health Outcomes Research.
Health services research focuses on structure, access, cost, quality, and outcomes of healthcare services. Within health services, health outcomes research focuses on the ultimate outcomes of care, such as the impact of treatments on decreasing morbidity and mortality of diseases, increasing patient health-related quality of life and satisfaction with care, cost effectiveness of treatments and services, and the intended and unintended consequences of health policies. The program is administered through the School's Department of Pharmaceutical Systems and Policy.
Over the past 25 years, 30 students have graduated from the Health Outcomes Research Ph.D. program and have advanced to successful careers in academia, the pharmaceutical industry, clinical research organizations, and the federal government.
"Our graduates typically have job offers from multiple sources, and their demand is a testimony to the high quality training that our dedicated faculty provide, and the accomplishments of our alumni who have a made a name for themselves and the program nationally," Dr. Madhavan said.
For the celebration, program alumni and current students were invited to a weekend of activities that included a celebration dinner, career panel discussion, and a student research poster presentation competition judged by alumni.
Photo caption: Program alumni, current students, and WVU School of Pharmacy Department of Pharmaceutical Systems and Policy faculty celebrate the silver anniversary of the Health Outcomes Research graduate Ph.D. program.
-- WVU HEALTH --
14-229
For more information: Amy Newton, School of Pharmacy, 304-293-7192
an: 12-16-14