WVU School of Pharmacy's Suresh Madhavan recipient of Distinguished Pharmacy Alumni Award from Purdue University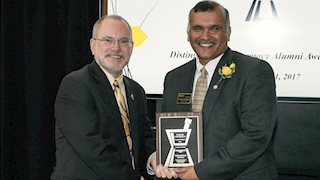 MORGANTOWN, W.Va. — S. Suresh Madhavan, MBA, Ph.D., was the recipient of Purdue University College of Pharmacy's 2017 Distinguished Pharmacy Alumni Award.
Dr. Madhavan was one of four Purdue alumni who received this award, which recognizes the recipient's outstanding achievements in professional and scientific endeavors.
Madhavan, professor and chair of the WVU School of Pharmacy Department of Pharmaceutical Systems and Policy, has been a faculty member of the WVU School of Pharmacy since 1988. His primary areas of research interest include health services research, with particular emphasis on improving access to and quality of health and preventive care services.
During his tenure at WVU, Madhavan and his graduate students have studied health disparities — or inequalities in the prevalence of disease, health outcomes or access to care when comparing one population to another — in breast, colorectal, lung, and prostate cancers, multiple sclerosis, insomnia, depression, diabetes and autism, in a variety of West Virginia and national populations — including Medicare and Medicaid —with a focus on issues related to access, cost, affordability, quality of health care and the economic burden of care.
Madhavan has been involved as principal investigator on numerous grants and contracts exceeding $28 million from federal and state agencies and private corporations. He currently has over 100 research publications in a variety of journals, and his recent cancer disparities work has been published in Cancer Epidemiology, Journal of Gastrointestinal Cancer, Psycho-Oncology, Breast Cancer Research and Treatment, Journal of National Comprehensive Cancer Network, Journal of Cancer Survivorship and Prostate Cancer and Prostatic Diseases. He has presented over 150 abstracts and presentations at various national conferences and as an invited speaker.
Madhavan has also been involved in developing, implementing and evaluating innovative roles for pharmacists in the health care system. Of particular note is a Centers for Disease Control-funded study, in partnership with the American Pharmacists Association, dealing with the pharmacist's role in immunizations, which was a driving force nationally for pharmacists becoming providers of immunizations. Madhavan also developed and evaluated the pharmacist's role as a prescriber educator to improve prescribing in the West Virginia Public Employees Insurance Agency (WV PEIA) program, for which his work received the Council of State Governments' National Award for Innovation. Currently, he is working with a team of colleagues to expand the role of pharmacy to improve prescribing of pain medications to prevent opioid addiction and abuse in the WV PEIA and the West Virginia Department of Health and Human Resources (WV DHHR) Medicaid pharmaceuticals program.
Madhavan helped establish the Rational Drug Therapy Program in 1995 — a program that provides prior authorization and consultative services for the West Virginia Bureau of Medical Services' (Medicaid) pharmaceuticals program. Since 2005, it has provided services to the WV PEIA Public Employees Insurance Agency and the West Virginia Children's Health Insurance Program (WV CHIP). He also helped establish the Ph.D. program in Health Services and Outcomes Research, designated as a "Program of Excellence" by the WVU Board of Governors.
"This award substantiates the outstanding research, educational and service endeavors that Dr. Madhavan has led," Mary Stamatakis, Pharm.D., interim dean for the WVU School of Pharmacy, said. "His leadership is also reflected in the many junior faculty and graduate students he has mentored at WVU in his almost 30-year career. We are proud that Dr. Madhavan was recognized for his work by his alma mater."
(l-r) Dr. Craig Svensson, dean of the Purdue University College of Pharmacy, presents Dr. S. Suresh Madhavan with his Distinguished Pharmacy Alumni Award. (Photo courtesy of Purdue Pharmacy)
Dr. S. Suresh Madhavan (Photo courtesy of Purdue Pharmacy)
-WVU-
For more information: Contact: Amy Newton, WVU School of Pharmacy, 304.293.7192,
an: 5-9-17