WVU School of Public Health hosts inaugural Investiture Ceremony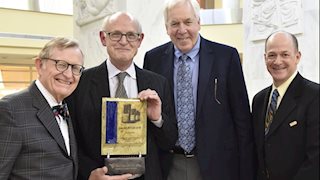 MORGANTOWN, W.Va. -- The West Virginia University School of Public Health celebrated the appointment of its first endowed professor Wednesday. Gordon Smith, M.D., M.B., Ch.B., MPH, the Stuart M. and Joyce N. Robbins Distinguished Professor of Epidemiology, was honored by a crowd of friends, family, students, colleagues and community members at the WVU Health Sciences Center.
WVU President Dr. E. Gordon Gee, School of Public Health interim dean Jeffrey Coben, M.D., and Stuart M. Robbins, a WVU alumnus, addressed the group.
"Big challenges call for bold approaches," President Gee said during his remarks Wednesday. "Dr. Smith is an outstanding example of our University's power to transform health in West Virginia by conducting new, life-changing research."
Smith joined the WVU School of Public Health last fall from the University of Maryland School of Medicine. He holds a medical degree from the University of Otago Medical School in New Zealand and a master's in Public Health from the Harvard School of Public Health.
Stuart M. Robbins and his wife, Joyce, made a major gift to the School when it was founded nearly five years ago. Their gift allowed WVU to recruit a faculty leader to place added emphasis on the areas of injury and substance abuse in West Virginia.
"An epidemiology program focusing on injury and drug abuse prevention could serve as a model for programs across the country," Smith said.
The contribution to the Stuart M. and Joyce N. Robbins Distinguished Professorship in Epidemiology was made in conjunction with A State of Minds: The Campaign for West Virginia University. The $1 billion fundraising effort by the WVU Foundation on behalf of the University runs through December 2017.