WVU SOP Wigner Institute hosts AADE workshop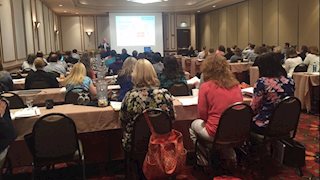 On April 18, 2016, the WVU School of Pharmacy Wigner Institute for Advanced Pharmacy Practice, Education, and Research sponsored an all-day American Association of Diabetes Educators Workshop entitled Building Your Diabetes Education Program. The program was held at Embassy Suites Charleston and funded by a $40,000 grant from the WV Bureau of Public Health Division of Health Promotion and Chronic Disease. Seventy-eight scholarships were awarded for attendees to learn how to construct their diabetes programs and secure reimbursement for their services.
Attendees included pharmacists, nurses, and dietitians from clinics, hospitals, pharmacies, and health departments from 40 counties throughout the state. Dr. Krista Capehart, the Director of the Wigner Institute and Clinical Associate Professor in the School of Pharmacy, said, "Feedback from the program has been resoundingly positive. Attendees were very excited to get the information to take back to their clinics to serve patients across West Virginia."