Back to

News
WVU student pharmacists compete in national competition to raise awareness about critical public health issue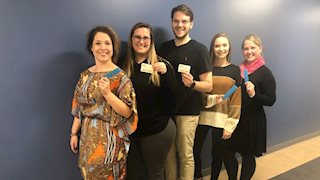 More than 65% of West Virginians have a chronic medical condition such as diabetes, asthma or coronary artery disease. Most of these chronic conditions can be managed with medication. However, getting patients to fill their prescriptions on time, and take them as directed can be a challenge for health professionals. Statistics show three out of four Americans do not take their medications as prescribed, resulting in serious health consequences – even death.
During February and March, students at the West Virginia University School of Pharmacy are competing in the 2020 Medication Adherence Team Challenge. The two-month interdisciplinary competition between student health professionals from across the country will help raise awareness about the importance of medication adherence.
WVU's chapter of the National Community Pharmacists Association (NCPA), led by student chapter leaders Kylie Park, Bryce Adams and Samantha Hines, will educate West Virginians through their Script Your Future campaign. The group is holding a series of free public events, question and answer sessions, as well as social media posts with tips and tools to help patients keep their health on track.
"As a group, we are really excited to get out and talk with members of our community. Our mission is to help patients better manage their medications, whether that be through refill synchronization, pill packaging or sitting down with the patient and talking through their medication list," said Kylie Park, WVU NCPA president. "A lot of times, these disease states can be complicated but well-managed with adherence to medications. As student pharmacists, we need to reach out to as many people as possible and share what we know."
The challenge is sponsored by the American Association of Colleges of Pharmacy (AACP), the National Association of Chain Drug Stores (NACDS) Foundation, the National Community Pharmacists Association (NCPA) and the American Pharmacists Association (APhA).
Since the challenge began in 2011, more than 18,800 future health care professionals have directly counseled nearly 78,000 patients and reached more than 26 million consumers about the importance of medication adherence. 2020 is the third year that WVU's NCPA chapter has competed in the competition. In 2019, they were among six national finalists for the Script Your Future national award.
To learn more about Script Your Future and to follow WVU students on their journey, check out @WVUSOPNCPA on Facebook.