WVU student pharmacists educate youth about substance and prescription drug abuse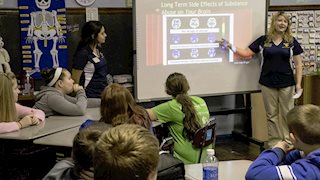 MORGANTOWN, W.Va. — Second-year students at the West Virginia University School of Pharmacy are educating middle- and high school students about the dangers of substance and prescription drug abuse one school at a time.
The project is part of the WVU School of Pharmacy's Introductory Pharmacy Practice Experience (IPPE) course. In this service learning class, students create and implement health-related activities to meet the health concerns of West Virginians, as well as objectives of the U.S. Department of Health and Human Service's Healthy People 2020 campaign — a program to improve the health of Americans.
The student pharmacists in the IPPE course have been working with middle and high schools in West Virginia, and several in Pennsylvania, to present information about substance and prescription drug abuse to students. The goal is to not only share information in order to prevent drug abuse and promote making healthy life choices, but to show that addiction is a real disease and can affect every aspect of life — physical, social, psychological and emotional — in dramatic ways.
The "Neuroscience Behind Drugs of Abuse" project takes a different path than most drug abuse presentations. Instead of using a just-say-no approach, the presentation discusses what actually happens to a person's brain and body from the first use of a drug to repeated use.
"As future pharmacists and healthcare professionals, it is our job to keep our community members healthy and improve their quality of life," student pharmacist Catalina Saenz said. "We want to educate students in their adolescent years about how the brain and body function normally and how the presence of illicit and prescription drugs alters your brain and body."
The "Neuroscience Behind Drugs of Abuse" project was originally developed by the Duquesne University Mylan School of Pharmacy for high school students. WVU students began taking the presentation to schools in West Virginia in 2014. The WVU students expanded the scope of outreach for the project and developed a presentation for middle school students, "Your Healthy Brain and Body, and How to Keep Substance Abuse out of Your Life."
Saenz and her group members visited West Preston Middle School on Monday, Nov. 2, and spent the day speaking with students during their science and their life skills classes.
WVU students developed the presentation to create an interactive environment in order to engage middle school students by using conversation and games.
"We feel this presentation is unique in that it is given by students to students which hopefully helps the students relate to us a little more easily," Saenz said. "Sometimes it's hard to talk to a teacher about topics such as these, and we hope the students feel we might be more approachable for these discussions. Living in a state that has a high drug abuse rate, it is important that we educate the people of our state and contribute to decreasing drug abuse and its negative effects. As future pharmacy professionals, we are able to offer this education and information to improve the health, and future health, of our community members."
For more information: Contact: Amy Newton, WVU School of Pharmacy, 304.293.7192,
an 11/3/15