WVU student pharmacists host Senior Olympics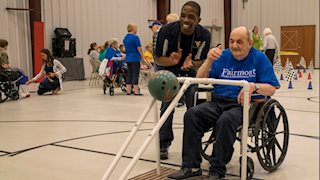 MORGANTOWN, W.Va. — Students from the West Virginia University School of Pharmacy hosted a Senior Olympics for local seniors to stress the importance of physical fitness.
The student pharmacists worked with Sundale Rehabilitation – Long Term Care to host the event on Thursday, March 31, at SteppingStones in Morgantown.
"The purpose of the Senior Olympics project was to educate senior citizens about the importance of staying physically active," WVU student pharmacist Walter Oben, said. "In addition, they were able to interact and socialize with members of other local assisted living facilities and had fun while learning how to stay healthy and active."
Residents from several other local nursing and assisted living facilities were in attendance at the Senior Olympics event. Members from the West Virginia Geri Olympics event team were also in attendance to assist with activities. The event included activities such as basketball, bowling, golf, a beanbag toss and horseshoe pitching, as well as other activities focusing on dexterity and hand-eye and motor coordination.
The student pharmacists were partnered with Sundale Rehabilitation – Long Term Care through the WVU Center for Service and Learning for their Introductory Pharmacy Practice Experience course, which promotes service to the community.
This is the fifth year students from the WVU School of Pharmacy have hosted the Senior Olympics with Sundale. The event was designed to increase the number of older adults who have reduced physical or cognitive function to engage in physical activity — a specific objective of the U.S. Department of Health and Human Services Office of Disease Prevention and Health Promotion's Healthy People 2020 campaign. The campaign is a program to improve the health of Americans.
-WVU-
Check http://wvutoday.wvu.edu daily for the latest news from the University.
Follow us on Twitter: @WVUToday, @WVUPharmacy
For more information: Amy Newton, School of Pharmacy, 304-293-7192
ad: 4/1/16