WVU Welcomes Largest Class of Biomedical Sciences Graduate Students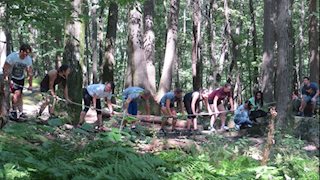 The West Virginia University Office of Research and Graduate Education recently welcomed its largest class of graduate students into the doctoral and master's degree programs in Biomedical Sciences.
Biomedical graduate students spent a week in orientation to help them prepare for graduate school and for their careers as scientists. This orientation, known as "boot camp," consists of eight to 10-hour days learning how to read scientific literature and present scientific results orally, as well as learning the ropes of graduate school and scientific exploration.
Unlike other degree programs, students seeking a Ph.D. spend the majority of their graduate school experience conducting research for their dissertation. This research must be original and also contribute to advancing scientific knowledge. As part of the boot camp experience, students network with several research scientists at the WVU Health Sciences Center to help them select the primary investigator (PI) and laboratory with which they will complete their dissertation research.
"We are so excited to see our graduate programs continuing to grow," said Laura Gibson, Ph.D., senior associate vice president for research and graduate education. "WVU is fortunate in having a wonderful pool of diverse and talented students; they are a critical driving force behind all of our science."
This group of students originates from ten states, Washington, D.C., and seven countries. Their undergraduate majors included biology, neuroscience, chemistry and even marine pharmacy. They bring with them a wealth of research experience and an aspiring set of interests and goals. These new biomedical graduate students hope to present their research at national and international conferences, develop novel vaccines or even find a cure for a neurodegenerative disease.
Krista Garner, Ph.D. biomedical sciences student, reflects on becoming a graduate student. "Graduate school at WVU represents a new beginning and foundation that I will lean on for the rest of my career," Garner said. "Through this program, not only is WVU allowing me the opportunity to achieve my goal of entering academia, but they are also facilitating a supportive and collaborative research environment, which is both important and rare."
Anirudhya Lahiri, Ph.D. student, is looking forward to his graduate education experience and shared his thoughts of what coming to WVU means to him." The WVU Graduate Program in Biomedical Sciences has provided me the exciting opportunity to pursue my lifelong dream of becoming a researcher; a chance to expand my skills and discover the love and support of new friends."
These students are an ambitious group and have an eclectic range of interests and hobbies as varied as they are. Some enjoy outdoor activities like fishing, hiking, and backpacking. Some sing and dance. There is also a firefighter, a silversmith, a wood carver and a few chefs in the bunch! This group also gives back to the community by volunteering for the American Cancer Society Relay for Life, coaching football and refereeing hockey – to name a few.
"I look forward to boot camp every year," said Lisa Salati, Ph.D., assistant vice president for graduate education. "Their enthusiasm, humor and desire to learn makes this a really fun week."